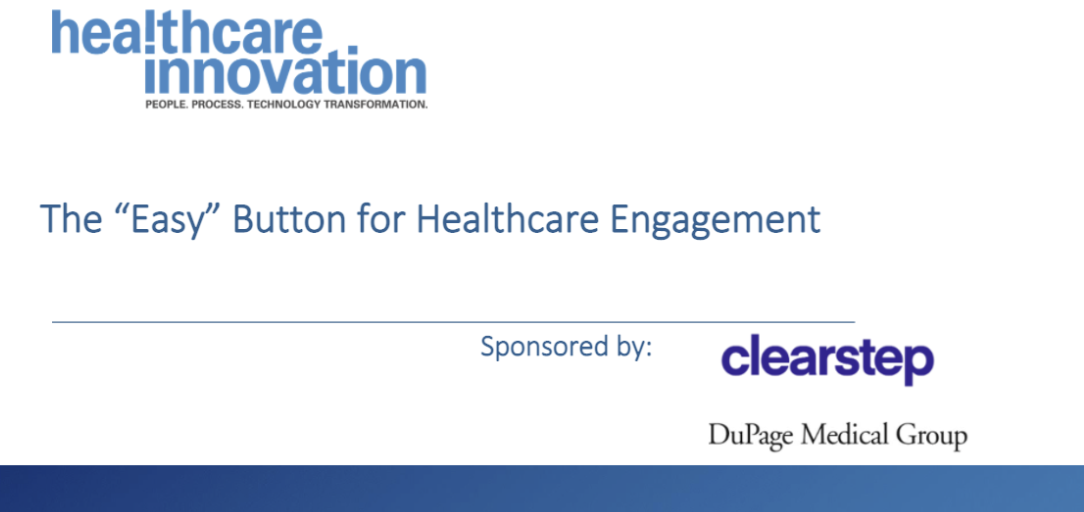 AI chat: the "easy button" for patient engagement
I had the pleasure of speaking on HCI's Fireside Chat with Joel Nelson, Duly's (fka DuPage Medical Group) SVP of Patient Experience and Clinical Innovation. The topic of the chat was, coincidentally, the rise of chat itself - specifically, the rise of AI chat in patient engagement.
Prior to co-founding Clearstep, I was a healthcare analytics consultant at Accenture. At the time, the concept of AI was beginning to take hold in retail and big tech. This led me to wonder: how can we use interesting, consumer-facing technologies to solve problems like access to care?
This was also a question that my co-founder, Bilal Naved, began to ask during his MD / PhD program at Northwestern. We initially met when we were both at the University of Maryland, working toward degrees in academic medicine. As a medical trainee, he witnessed ground level inefficiencies and uncertainty around getting care. Our combined experiences ultimately led to the formation of Clearstep. Our smart care routing solutions use AI chat technology to improve patient experience and engagement for our healthcare partners, like Duly (fka DMG) through virtual triage, digital clinical journey support, and automated patient services navigation.
Spend on AI in healthcare is on the rise
Now more than ever, patients find themselves relying on a digital-first approach to healthcare — which, at first, might not involve a human on the other end of the exchange. According to ABI Research, AI spending in the healthcare and pharmaceutical industries is expected to increase from $463 million in 2019 to more than $2 billion over the next 5 years. According to Rock Health, 76% of patients check symptoms or look for care online to explore their options. As patients attempt to shift through hundreds of options, the stakes are high for anything but the right care.
AI chat has evolved to address the rising healthcare spend
Many of us remember simplistic, one-dimensional chatbots from 10 years ago. AI chat has come a long way since then. Other technologies, both past and present, have focused on diagnosis: identifying what was wrong with the patient. This would often leave patients unclear of the next step they should take. At Clearstep, we take a different approach. Our objective is "smart care routing" - i.e., help patients find their best next step for care quickly and accurately. We take pride in the clinical intelligence that underpins our algorithms. Our internal team of clinicians has built use cases off Schmitt triage protocols to quickly and accurately triage patients with an accuracy of 95%. With Clearstep, patients can chat online to express their needs, share more about themselves and their preferences, and ultimately find the right care. Our AI-based NLP technology understands free text and asks as few questions as possible before routing patients to the right care.
Last year was an inflection point in AI chat adoption
The pandemic accelerated the adoption curve towards AI chat. We witnessed leading healthcare providers become aggressive around promoting digital solutions and thinking about the lasting impact of digital access to care. As Joel explained during the webinar, patients get frustrated when it feels like they're asked the same question three or four times. At DuPage Medical Group, their goal is to empower frontline staff with the right information and tools to provide a standout patient experience. This is why we've seen so much interest and excitement in solutions like Clearstep over the last year.
The future of AI chat
Looking ahead, we believe AI chat and triage can be expanded to include patient services workflows - providing patients with a cohesive experience whether they're looking to triage symptoms, find a lab, refill a prescription, or check their insurance eligibility. Further, AI chat and triage can be leveraged to avoid leakage when patients are referred to specialists for longer-term chronic care. For example, at Clearstep we are currently working to help our clients map out long-term care journeys to provide patients transparency into the process and to help them more easily book their next visits.
Thank you to Healthcare Innovation and Matt Rainer for hosting us and Joel Nelson from Duly (fka DuPage Medical Group) for the rich conversation.
See a full version of the Healthcare Innovation webcast below. If you're interested in learning more about Clearstep, you can contact us here.