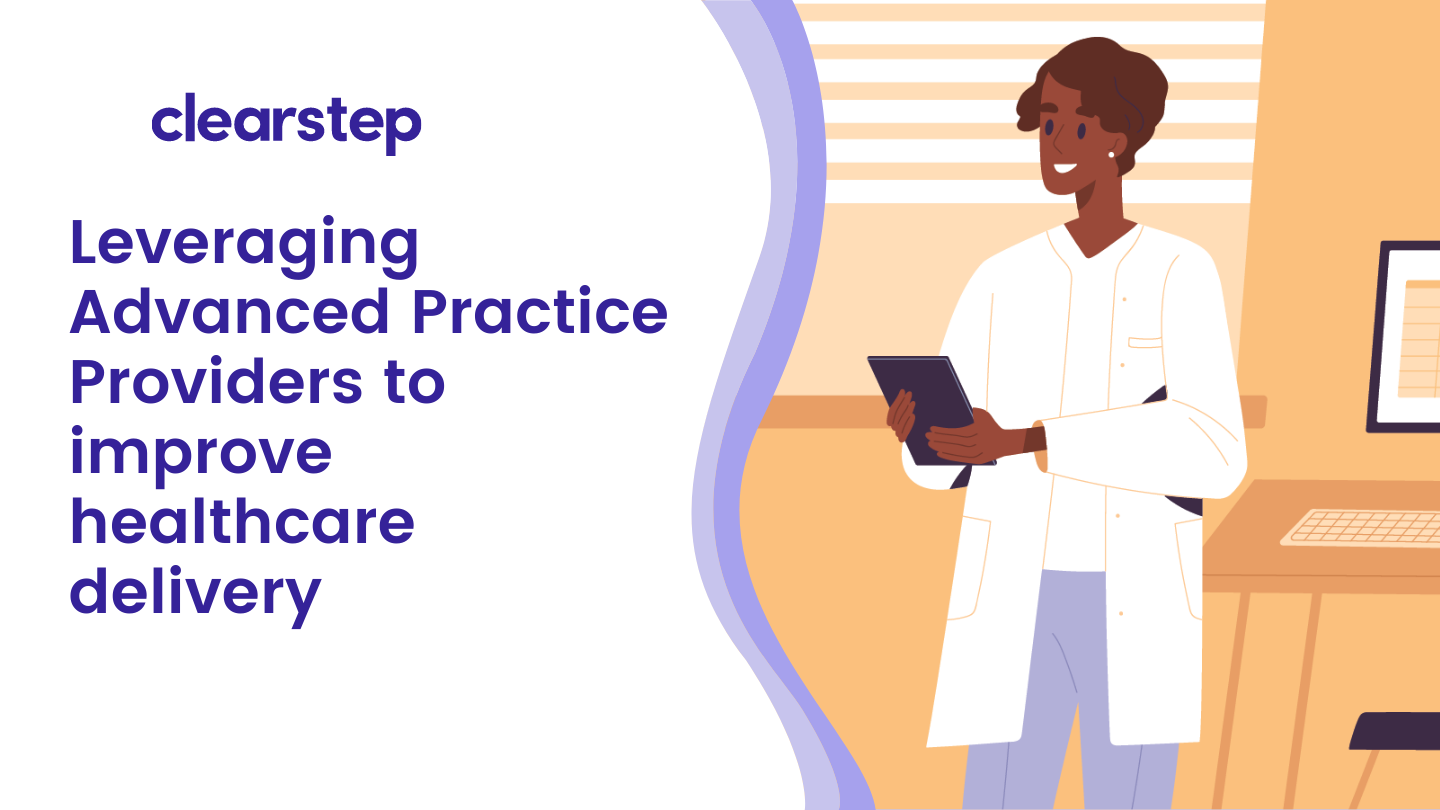 The Role of APPs in Telemedicine and Digital Health
By: Casey Distaso, Kelsey Udy, Bilal A. Naved
Access to medical care is challenging. We believe the best healthcare should be easy. Especially as telemedicine offerings and adoption has rapidly grown in the midst of the COVID pandemic, engagement with digital health solutions is one way that access to quality healthcare can improve. The Association of American Medical Colleges (AAMC) projects that the United States will continue to face barriers to accessing care, estimating a physician shortage of 37,800 and 124,000 by 2034.
Advanced Practice Providers (APPs), which includes physician assistants (PAs) and nurse practitioners (NPs), are an incredibly valuable resource that play an important role in our healthcare system to bridge the physician shortage gap; recently developed digital health technologies can be leveraged to optimize APP workforces and to ensure patients have access to timely and quality care.
The Advanced Practice Provider is an evolving domain with a clear trend toward expanded authority. APP training places an emphasis on both coursework and learning at the bedside across many different specialties, preparing them to provide high-quality care to patients when they need it. A dedicated effort to train APPs has led to increased staffing at primary and specialty care clinics, retail clinics, urgent care centers, and emergency departments. Specialty trained APPs increase clinical capacity, allowing more patients to be seen, and more timely care, throughout the healthcare system. APPs are well positioned to play a critical role in telemedicine and digital health.
Virtual triage, remote mentoring, and automated follow-up & escalation can support lower cost, better care, and optimized labor utilization with a hybrid on-site/virtual care model. The hybrid model integrates and coordinates use of the right clinician resources, in the right setting. For patients, understanding when and where to seek care is challenging. The type of clinician a patient sees is determined by their symptoms and medical history; understanding which medical concerns can be managed by an APP or will need a physician is important to successfully building triage systems that optimize care delivery for our health system customers.
Waiting weeks to months for a clinic visit with a medical provider leads to delays in care, ongoing confusion, and bothersome symptoms for patients. We need to do better. Ensuring patients are initiating care in the most appropriate care setting optimizes care and clinician resources, and ensures that patients aren't delaying necessary care. Triage gets patients accurate, efficient, and patient-friendly access into the healthcare system. The healthcare industry must continue to optimize our clinician resources in this rising age of digital health, especially in the face of physician and nurse shortages, to make our medical system work for everyone.
"If I have a telemedicine visit, will I see an APP or a physician?"
The answer to this question depends on the patient's symptoms and medical history. Let's take a look at one of Clearstep's customers, CVS Health. CVS patients use Clearstep's AI chat-based virtual triage to determine the level of care they need when they have symptoms, allowing the CVS care resources and clinician time to be optimized and giving patients more opportunities for care when and where they need it.
CVS offers two telemedicine services - e-clinic visits and virtual visits. E-clinic visits are administered by an APP, and function the same way as a walk-in visit to a CVS health location. The APP will discuss your symptoms, give medical advice, and write a prescription, if necessary. This type of visit is ideal for common illnesses or medical questions (colds, sore throats, pink eye, urinary symptoms, vaccination questions etc). A patient eligible for this type of visit can schedule a CVS E-clinic visit at the end of their Clearstep virtual triage process on the CVS website. E-clinic visits are not only easy to schedule, but may be more affordable, and often have shorter wait times. Getting patients to the right level of care ensures that patients with more serious health concerns are able to be seen by a physician as quickly as possible.
A CVS virtual visit is with a physician. This type of visit is similar to visiting a primary care doctor's office via a telemedicine platform. Clearstep directs patients to evaluation and care management by a physician if the patient has a more complex illness, symptoms, or chronic medical problems (like diabetes, COPD or high blood pressure). The primary care physician conducting the CVS Virtual Visit is trained to help with acute and chronic medical problems, and also to identify when one may need a referral to a specialty provider for additional evaluation. The price may be higher than an e-clinic visit, as care is being administered by a board certified physician - but receiving care at the right time prevents much higher costs of care for untreated conditions.
Where do we go from here?
Considering our country's physician shortage and a burgeoning telemedicine space, we must continue to innovate and find ways to deliver care safely, effectively, and efficiently. Successful collaboration between physicians and APPs will contribute to a system that can provide care for those in need, for everything from minor health problems to medical emergencies.
At Clearstep we're building solutions to make healthcare easier. Clearstep's Smart Care Routing uses AI chat to efficiently route users to the most appropriate care option for their medical concerns. This optimizes care and clinician resources while ensuring that patients aren't delaying necessary care, and drives down healthcare costs. Clearstep's collaborative team of Physicians and APPs is committed to accurately routing users to the most appropriate care option, with fulfillment options ranging from retail clinics, to in-person primary care, virtual visits, or emergent care settings. Using algorithms developed by our in-house physicians, APPs, nurses, and therapists, Clearstep's Virtual Triage delivers an accurate, efficient, and patient-friendly digital access point to the healthcare system.